JL is having 20% discount storewide and card members have further discounts from 4 May - 6 May (3 days only!) I am lucky this time as I am on OFF from work on 4 May!
The things I bought in JL, total damaged count up to $100.44~ Fieewww~
NUDE Facial Cotton 2packs for $5.90 (After Discount $4): I got 4 packs! 150 cottons per pack, so its 300 cottons for $5.90. =)
NUDE 6pc Facial Puff $4.90 (AD $2): Just to say, NUDE is made in Korea. Their quality are good and prices are acceptable. =3
-Scroll down for other stuffs-
From Daiso, I got all things "About Feet", plus 1 sponge cleaner! I didn't get their facial cottons as I think I'd bought enough of NUDE. XD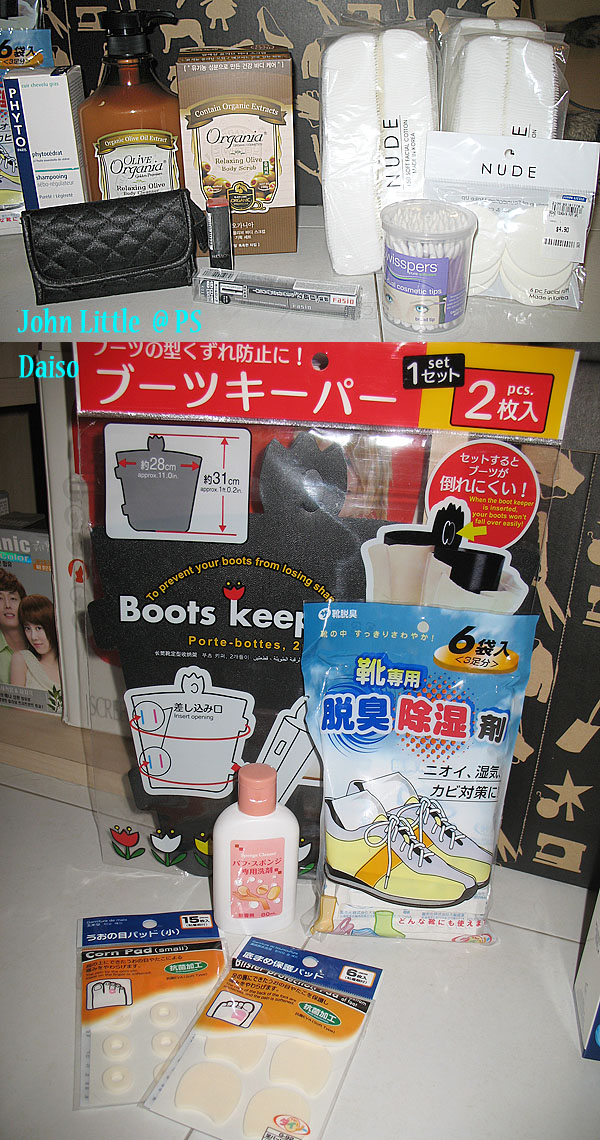 Just happened to bumped into my ex-boss, Irene, replenishing her stocks in JL at the Olive Organia's shelves. She burged me to get some of her stuffs so I gotten this Promo pack (last set) since i run out of body scrub so may as well give her some business... =D
Olive Organia Body cleanser + Body Scrub $19.90 Promo: When I opened the box of Scrub, out came this little Body+Hand cream! So cute the packaging♡ ^.^

I remembered reading retail_therapy's blog about Phyto, kinda make me thinking "i should try this brand too!" But I ain't gotten treatment cream, I'd gotten a  shampoo as my Loreal Elsève's finishing soon, plus I think my oily scalp is getting immuned from that shampoo, so its time to change!
Phyto Paris Sebo-Regulating Shampoo $34 (AD $27.20) : The container is stainless steel! Its look somewhat like a water bottle to me. The smell is not really nice, but not stinky too. It kinda freaks me out when I use it cos 1st, the shampoo water spilled out so fast I nearly poured all the content out of the bottle! 2nd, it was brown in colour, makes me think of of bitter chinese medicine. =_="
So ya, the shampoo is WATER, liquid kind, whatever you call it. It is unlike all the drug store shampoos I had used before. This is my first liquid shampoo! (Stamp Chop Sign♧)

Revlon ColorBurst Lipstick $21.90: The salesgirl says there is 20% discount for this lipstick but I realise in my bill, it didn't deduct. So sad =( However I've gotten a free pouch from them! The lipstick I gotten is in PEACH.
I later realised that they have buy 2 and get 1 free promo (Read the booklet but I've forgotten about it!), I went back to JL and salesgirl says I have to void the whole receipt then the counter will rekey all over again. Looking at the long queue, I gave up. :(
Anyone of you going to buy this lipstick at JL, do update whether you gotten any discounts for it?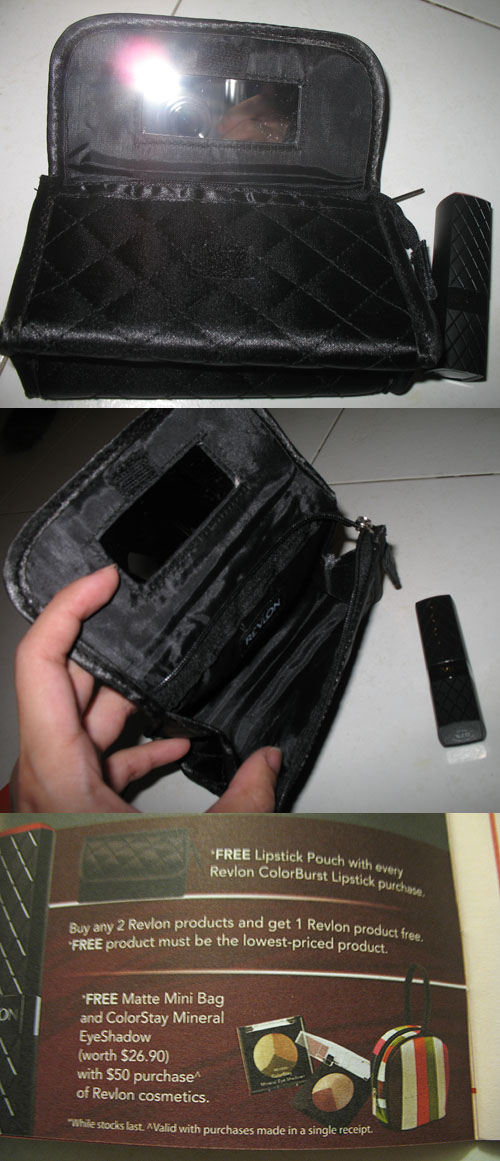 Swisspers Dual Cosmetic Tips $3.90 (AD $3.12): I've always wanted a pointed cotton buds so here it is! The container is so cute, can still reuse it in future!

Fasio Hyper-stay Mascara (Magne-plus Curl Long) $22.90 (AD $18.32) : I always liked how Fasio makes my lashes look strong, rigid, super waterproof kinda feeling plus how easily I can apply it to my lashes comparing to MMajolica. And my old Fasio mascara had dried up so I decided to get it since there is discount! =3

♠ Somang Clinic HN Color Hair Bleach
Talking about my ex-boss, it kinda of reminds me that I totally forgotten about the Hair Bleach I bought a year ago in my ex-work place.
I was previously working in Surprisesss (Chinatown Market 3rd level), also a sister outlet of IvyCosmetics.
I used Somang Hair Bleach and Hair Dye and I ♡ them so much more than all other hairdyes (like loreal/Revlon/Garnier and the current Liese) but one thing is that its so hard to bleach and dye hair yourself. You will end up with uneven dyed hair. Worst still if you have a long hair.
I usually ask my friend to help me, she's not a hairstylist or whatever but she so darn good in hairdyeing my hair! I always end up with perfect hair colour! =3
One thing special about Somang Hair Dye is that it has a additional Nutrition Oil that need to be added into the dye content. And it provides a rather big tube of hair mask (in yellow colour, name Kerafix) and not to mention it includes gloves too! (I think some don't provide that)
Somang brand is actually under the same company as Beauty Credit. I think Somang is the mainline of that company but the models they use in Somang is repeated in Beauty Credit. Many people bought Somang's products got confused with Beauty Credit and thought that Somang was a copy brand, but infact BC is under Somang.
My ex-boss brought in Somang Hairdye and Bleach 2 yrs ago, but now it was stopped. Hence this 2 box of Somang Hair Bleach might be the last of Somang products in Singapore (XD~) that is if Beauty Credits' not counted in. Each box is sold @ $13.90 only but BC always sell every item for at least $5 more expensive than my ex-boss sells. If I want to use Somang hairdye again, I might have to turn to BC to get it =( Which is so highly priced...
Nevertheless I must plan a day to use up these 2 boxes of bleach! And welcome back my bleached hair again! \^o^/~ I miss you yellow hair!~